Feedback
Nair™ WAX READY-STRIPS Legs and Body
Nair™ WAX READY-STRIPS Face & Bikini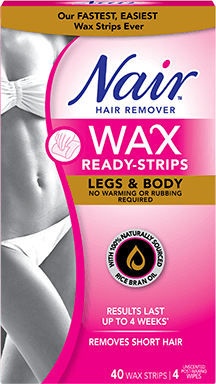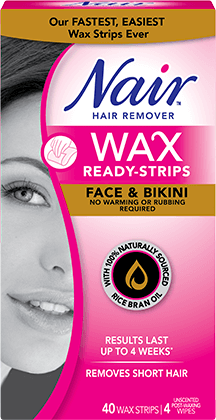 Here are some of the stories you've shared with us:
Anonymous

This thing DOES WORK, it get the job done, i didnt try it on the face because im kinda scared from what will happen, i did try it on my legs tho, i know, it is not for legs, but it worked for legs so of course it will work on other spots, especially the fact it is specialized on face and bikini, anyway, i'll try it on other spots for sure, but im already okay with it.

leb494

I was very skeptical about using wax strips that did not need any rubbing to be heated up but these worked surprisingly well. I like the fact that I don't have to warm it up in m fingers. It really did take off most of the hair in one or two tries which was nice. I just wish there were more of the tissue wipes that are included within the package. I had received this product from ChickAdvisor free for testing purposes so I was excited to try some new wax strips. Nothing really different about these wax strips than the other Nair ones, however I like that I do not have to rub them before applying.

Anonymous

I've used these wax strips mainly on my upper lip and to my surprise were very moisturizing. Usually with wax strips my skin gets irritated but that wasn't the case with these wax strips!

Kathyfaki

I revived nair wax strips free from chick advisor and I love this product works great with no irritation afterwards removes hair easy I recommend this product and want to say thank u chick advisor for choosing me I love this product

kheckl

"Love that there is no mess and they are really easy to use. I can't compare these to other wax strips but I would definitely recommend them.
*received for free as a tester"

sscigliano77

"I liked it, gets the job done and it's messless and easy. Just make sure you put aside extra time the first few sessions to get used to the hang of things.
Once you get it, it's great. Not too hot, no filmy feeling in skin after... And no mess!
Would absolutely recommend this product to friends and family!"

Erin2015

I have used the bait strips where you have to warm them up in your hands for many years, but I'm loving that you don't have to do that and they're ready to go right away!

ellenyw

Received this free from chickadvisor to test out! I usually use Veet wax strips for arms and face but this time I was able to try nair. I liked the design better than veet strips but I still find that veet wax strips are better. Overall a comparable product!

Anonymous

"I normally do not use face wax strips to remove facial hair, so this was a new experience for me. The Nair Wax ready-strips were the perfect tool to remove those awful lady side-burns! I would recommend warming the strip up before using it, especially if you live in a cold region of the planet like me. The price is really affordable, and I would definitely consider purchasing it.
I received this product for free from the Chickadvisor Product Review club!"

hervaise

"Dans la boîte reçu, il y avait une boîte de Nair, une bouteille de shampoing sec Batiste et un bonnet de douche :) Il est magnifique !
Jai essayer le produit Nair sur ma lèvre supérieur peu de temps après l'avoir reçu. Je suis sensible de la lèvre, et surprenant, je n'ai pas enflé ni rester rouge trop longtemps. Une bonne efficacité ! :)"

OriginalMaven

"I received this product to try for free from the Chickadvisor Review Club.
I've never used face & bikini wax strips before, and after trying Nair Wax Ready-Strips for Face and Bikini I'm wondering why I've never tried them till now?! I imagined that using wax strips, especially in sensitive areas, would be p-a-i-n- f-u-l to say the least, but I was wrong about Nair.
I tried using the strips in a few different areas and found they were not very effective in removing unruly leg hair (jks) but they were very effective for removing my unwanted eyebrow hair that would normally take 'hours' of obsessive plucking, plus it lasts about two weeks.
I think that the wax would be better if it were a bit sticky-er, I found that once I had used the strip it became ineffective right away and that lead to using a few strips in one area resulting in a blob of wax on my forehead. I'm new to waxing don't judge me! But if this happens to anyone else, the after wax wipe pads are great for removing wax and soothing irritated skin plus it seems like calming lavender oil.
I would definitely recommend this product!"

rosierad

"I was pleasantly surprised by the effectiveness of this product. I have tried wax strips in the past, and pretty much gave up on them because they never seem to remove hair effectively. I always have to blow dry them before applying them because they would never really adhere to my skin, and therefore hair, really well. I was a bit skeptical with this product and its claim that there is no rubbing or warming required. However, when I tried this on my upper lip, it really lived up to its claim and even removed the very short hairs on my upper lip. This is such an easy, mess-free method to remove facial and bikini hair. So glad I tried this out! Now, I have renewed faith in ready-to-use cold wax strips. I have only tried this on fine facial hair, so I am unsure whether this product would work for very coarse hair. I would definitely recommend this to anyone who wants an easy way to remove facial or bikini hair. They are also very travel-friendly and great to take on vacations!
I received this product for free as part of the ChickAdvisor Product Review Club."